Verrado Grille is open for dining and take-out. Please see our COVID page for additional information and to learn about our best practices.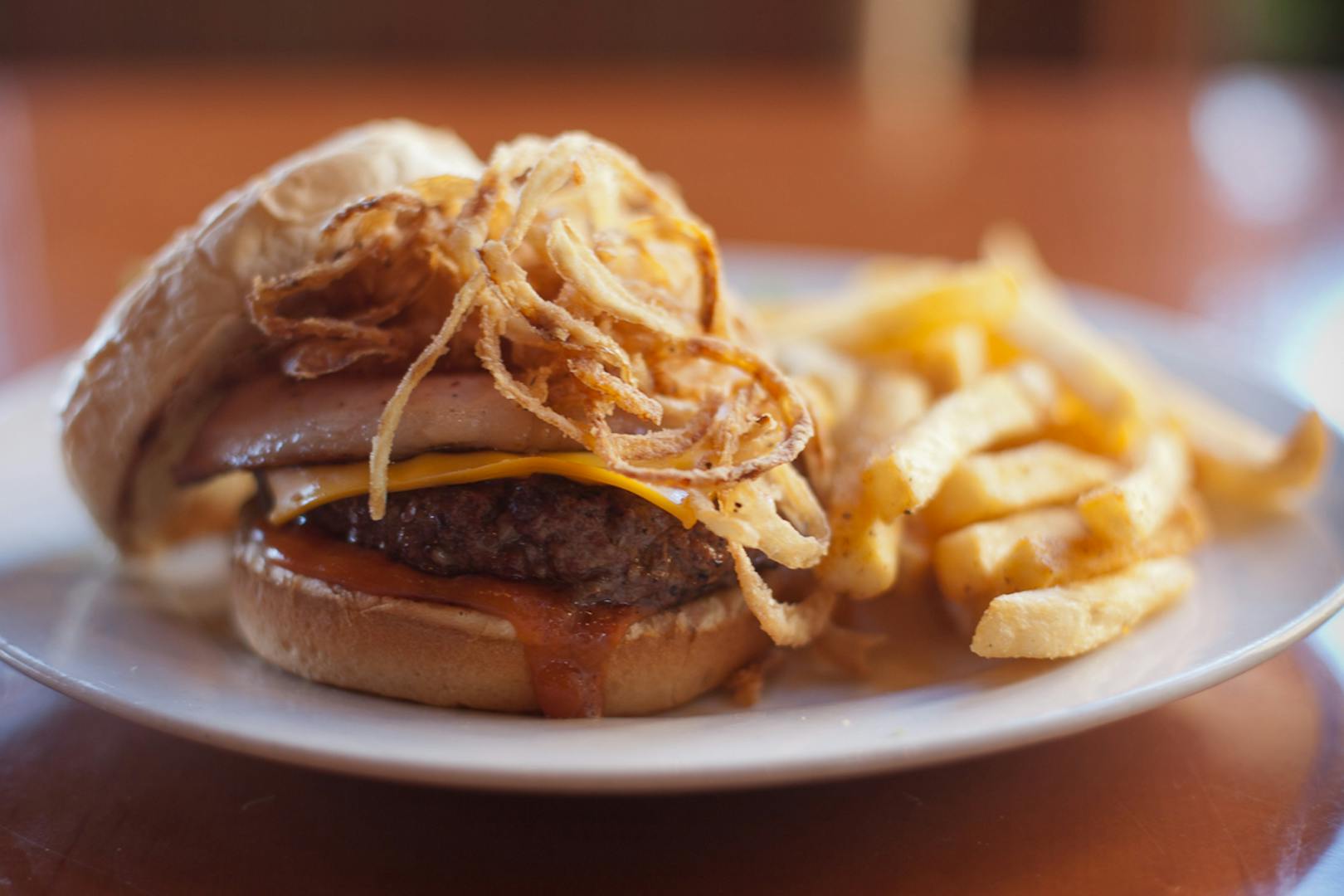 With a flare as unique as the evening skies set against the White Tank Mountains, the Verrado Grille restaurant offers a menu unparalleled to traditional golf course dining. The restaurant combines impeccable service, a lively atmosphere, and incredible views to provide an unforgettable experience. Additionally, the open patio, unique indoor and outdoor bar, and spacious seating allow for spectacular viewing of the Sonoran Desert sunsets.
The Verrado Grille restaurant resides in the rustic contemporary clubhouse of the prestigious Verrado Golf Club. An atmosphere conducive to an elegant night out is created by the intimate and comforting while intriguing interior structure and decor.
Hours
Monday - Thursday
11:00 AM - 8:00 PM
Friday, Saturday
7:00 AM - 9:00 PM
Sunday
7:00 AM - 8:00 PM



SHAREABLE

---

VG WINGS

ten jumbo chicken wings, buffalo, texas dry rub or sweet and spicy $12

SPINACH DIP

spinach, artichoke hearts, pepper jack, parmesan, pita $11

CHEESY GARLIC BREAD

four cheese blend on baguette $9

BRUSCHETTA BOARD

fresh tomato, garlic, onion, parmesan, basil, balsamic glaze, crostini $9

SHRIMP COCKTAIL

four jumbo poached shrimp, chipotle cocktail sauce $11

WHITE TANKS TOOTHPICKS

fried onions & jalapeños, chipotle dipping sauce $8

CHICKEN QUESADILLA*

three cheese blend, chicken, black beans, pico de gallo, sour cream $11

HUMMUS

vegetables, pita $10




SOUPS & SALADS

---

Soups From Scratch

Cup/Bowl $5/$7

HOUSE SALAD

mixed greens, tomato, onion, cucumber, cheese blend $6

CAESAR

romaine, parmesan, crostini $7

ARIZONA

romaine, roasted corn, black beans, tomato, avocado, tortilla strips, cotija, green chile lime dressing $11

BIG APPLE

mixed greens, cranberries, pecan, goat cheese, apple chips, cider vinaigrette $10

BLUE BEET

mixed greens, roasted beets, blue cheese, pistachio, creamy blue cheese dressing $11

STRAWBERRY AVOCADO

baby spinach, red onions, almonds, blue cheese crumbles, poppy seed vinaigrette $12

SUB / ADD

Salmon* 4/7

Steak* 4/6

Shrimp* (3) 4/7

Chicken* 0/4

"Beyond" Veggie Patty 4/7

Truffle Fries 2/5

Sweet Potato Fries 2/5

House Salad 2/4

Caesar Salad 3/5




BURGERS AND SANDWICHES

---

VERRADO BEEF DIP

swiss, horseradish aioli, baguette, au jus $13

REUBEN

shaved corned beef, caraway sauerkraut, 1000 island, swiss, rye $13

SOUP AND 1/2 SANDWICH

soup of the day plus choice of egg, tuna, or chicken salad sandwich $12

SHREDDED BEEF SANDWICH

braised beef, parmesan crusted sourdough, swiss, arugula, tomato, horseradish aioli $13

TUNA MELT PANINI

albacore tuna, avocado, american cheese, sourdough $12

GRILLE BURGER*

half pound angus beef, choice of cheese, lettuce, onion, tomato, pickle $12
-sub "beyond" beef veggie patty $4
-add bacon, egg, mushrooms for $1 ea

CHICKEN BLTA*

bacon, lettuce, tomato, avocado, provolone on ciabatta bun $14

ROASTED TURKEY PANINI

oven roasted turkey, bacon, tomato, avocado, sprouts, chipolte aioli, toasted wheat $13




ENTRÉES

---

CHICKEN PARMESAN*

parmesan crusted chicken breast, mozzarella, marinara, spaghetti $18

BEEF STROGANOFF*

garlic, mushrooms, red wine, beef demi, sour cream, fettuccini $20

FISH AND CHIPS*

battered cod, remoulade, fries, coleslaw lunch/dinner $14/$17

BONE-IN PORK CHOP*

grilled baby yams, roasted brussels sprouts, bacon jam $18

GRILLED SALMON*

rice pilaf, lemon dill crema $24

ROSEMARY BRAISED SHORT RIB

smashed yukon potatoes, seasonal vegetables $22

GRILLED RIBEYE*

12oz, prime ribeye steak, whipped potatoes, seasonal vegetables, steak butter $28




DESSERTS

---

7-LAYER CHOCOLATE CAKE

TIRAMISU

RASPBERRY CHEESECAKE

CHOCOLATE BROWNIE SUNDAE




BREAKFAST

---

MEAT LOVERS OMELET

three eggs*, bacon, sausage, cheese, breakfast potatoes and toast $11

EGG WHITE OMELET

onion, mushroom, spinach, breakfast potatoes and toast $12

STEAK AND EGGS

two eggs*, 5oz sirloin*, breakfast potatoes and toast $15

THE TRADITIONAL

two eggs*, bacon or sausage, breakfast potatoes and toast $10

AVOCADO EGG PANINI

bacon, egg*, avocado, cheese, tomato, chipotle aioli on sourdough $11

SHORT STACK

whipped butter, maple syrup $10

BELGIUM WAFFLE

whipped butter, maple syrup, mixed berries $10

AVOCADO TOAST

two eggs*, arugula, tomato, bacon, wheat $11




SIDES & DRINKS

---

SIDES

toast $1
one egg* $2
potatoes $4
1/2 waffle $5
bacon / sausage $5
biscuit and gravy $6

DRINKS

milk $3
juices $3.5
bloody mary $5
verrado mary $12
stuffed olives, bacon, poached shrimp
mimosa $7
optional flavors $2
pomegranate, melon, pineapple, blue cherry
*Consuming Raw or Undercooked Meats, Poultry, Eggs or Seafood can Increase Your Risk of Food-Borne Illness