Verrado Grille is open for dining and take-out.
We are currently hiring for all positions (Cooks, Dishwashers, Event Staff, Bartenders, Servers, Host/Hostess, Food Runners, Bussers). Please complete an online application HERE!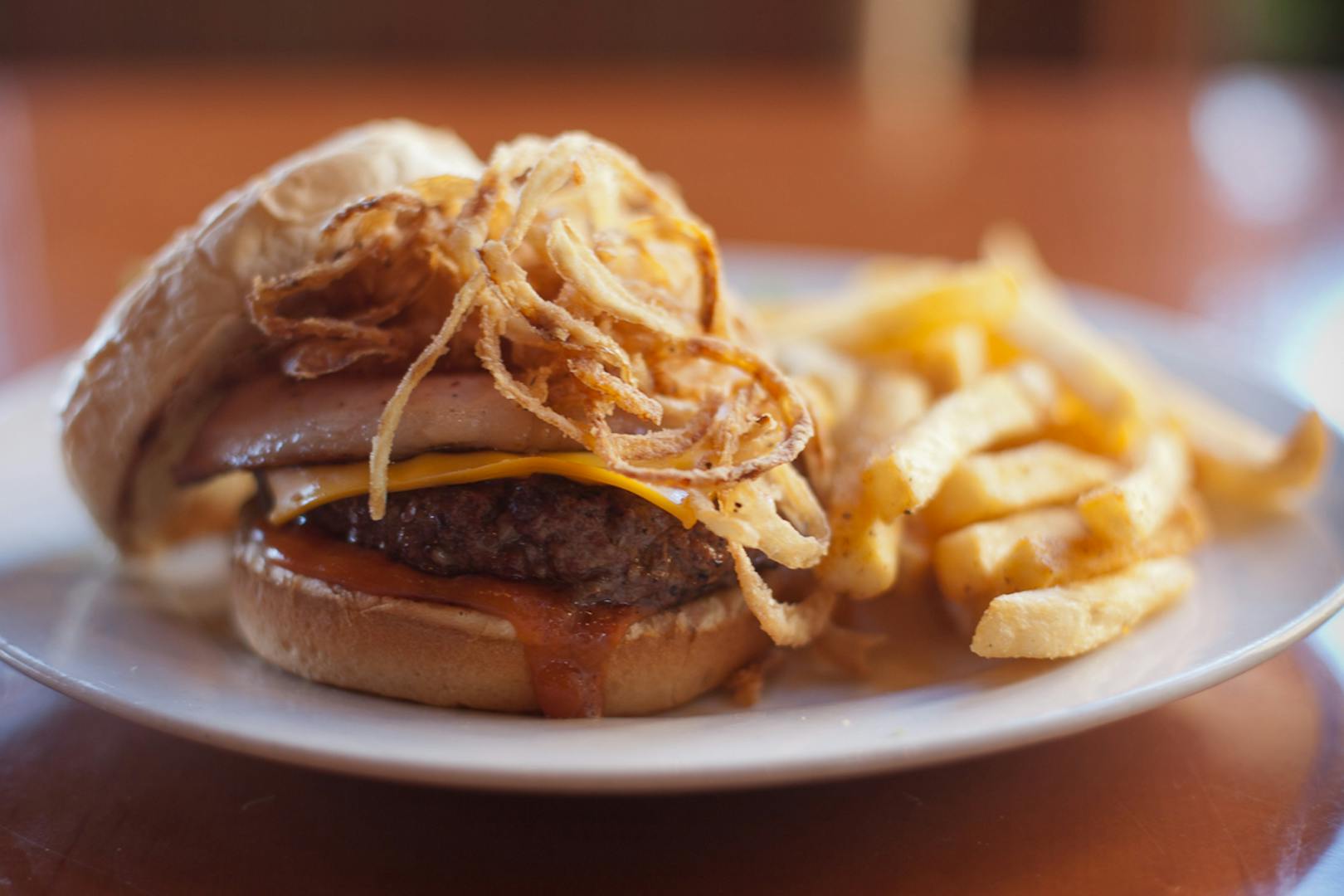 With a flare as unique as the evening skies set against the White Tank Mountains, the Verrado Grille restaurant offers a menu unparalleled to traditional golf course dining. The restaurant combines impeccable service, a lively atmosphere, and incredible views to provide an unforgettable experience. Additionally, the open patio, unique indoor and outdoor bar, and spacious seating allow for spectacular viewing of the Sonoran Desert sunsets.
The Verrado Grille restaurant resides in the rustic contemporary clubhouse of the prestigious Verrado Golf Club. An atmosphere conducive to an elegant night out is created by the intimate and comforting while intriguing interior structure and decor.
Hours
Monday - Wednesday
11a - 8p
Sunday & Thursday
8a - 8p
Friday & Saturday
8a - 9p



STARTERS

---

MOZZARELLA STICKS

six hand breaded cheese sticks, marinara or ranch dipping sauce | 12

CEVICHE (gf)

shrimp, scallop, cilantro, cucumber, lime, chiles, house chips | 15

CHICKEN FAJITA QUESADILLA

grilled chicken, white cheese blend, roasted peppers and onions, salsa, sour cream | 14

BUFFALO CHICKEN FRIES

cheese smothered fries, crispy buffalo chicken, bacon, pickled onions, chili line ranch drizzle | 14

SPINACH DIP

spinach and artichoke in a pepper jack cream sauce with tortilla chips | 14

VG WINGS (gf)

eight jumbo chicken wings, choice of one sauce - buffalo, dry rub or sweet and spicy | 13 each additional sauce .50

ROASTED GARLIC HUMMUS (gf)

puréed chickpeas, roasted garlic, roasted and raw vegetables, pita, pretzel | 14

HOUSE FRIES OR SWEET POTATO FRIES

shareable side of fries with house seasoning | 5/6




SALADS

---

SOUTHWEST CHICKEN SOUP (gf)

shredded chicken, corn, black beans, in chili broth | 5/7

HOUSE SALAD (gf)

field greens, tomato, onion, cucumber, cheese, choice of dressing | 5/10

CEASAR SALAD

romaine, shaved parm, tomatoes, roasted garlic | 5/10

ZONA SALAD (gf)

romaine, roasted corn, black beans, tomato, avocado, tortilla strips, cotija, chile lime dressing | 15

CHEF'S SALAD (gf)

romaine, field greens, tomatoes, onions, cucumber, ham, bacon, egg, cheese | 15

STRAWBERRY PECAN (gf)

strawberry, candied pecans, blue cheese, onions, field greens, choice of dressing | 15

AVOCADO CAPRESE SALAD (gf)

spring mix, avocado, basil, pearl mozzarella, cherry tomato, walnuts, pickled onions, white balsamic dressing | 16

BUFFALO CHICKEN SALAD

romaine, tomato, onion, bacon, crispy chicken tossed in buffalo sauce, blue cheese | 18

ADD ONS & DRESSINGS

chicken | 7 salmon | 12 steak | 12
Made In-House | ranch, blue cheese, dark balsamic, while balsamic, 1000 island, chile lime




HAND HELDS

---

GRILLE BURGER*

1/2 lb angus beef patty, choice of cheese, lettuce, onion, tomato | 17

PATTY MELT*

two all beef patties, caramelized onions, american and swiss cheese, on toasted rye bread | 16

RUEBEN

shaved corned beef, caraway sauerkraut, 1000 island dressing, swiss cheese, on grilled marble rye | 18

CUBAN

roasted pork loin, honey ham, pickles, mustard, swiss cheese, caramelized onions, on smashed hoagie | 17

STEAK SANDWICH*

ny strip, roasted tomatoes, onion strings, arugula, horseradish aioli, baguette bun, served medium | 19

SEAFOOD PO BOY

shrimp, scallops and salmon, lightly fried, cabbage, chipotle aioli, soft toasted bun | 18

MAHI SANDWICH

tempura fried or grilled, coleslaw, pickled onion, tomato, remoulade, on toasted bun | 18

CHICKEN MELT

chicken breast, bacon, lettuce, tomato, avocado, provolone, garlic aioli, on grilled sourdough | 18

HUMMUS WRAP

hummus, spring mix, tomato, onion, cucumber, avocado, wrapped in a flour tortilla | 17




ENTRÉES

---

CHICKEN PARMESAN

breaded and fried chicken breast, marinara, served on noodles or as a sandwich | 18

FISH AND CHIPS

three tempura fried cod pieces, fries, coleslaw, remoulade | 23

SHRIMP AND RICE BOWL

sautéed shrimp, chilies, onions, and potatoes, atop cilantro lime rice | 26

SEAFOOD PASTA

bay scallops, rock shrimp, salmon tossed with spaghetti, in a cajun cream sauce | 28

ROASTED CHICKEN

half roasted chicken, smashed potatoes, seasonal vegetables | 28




AVAILABLE AFTER 4PM

---

SOY GLAZED SALMON*

honey soy glazed seared salmon, rice pilaf, seasonal vegetables | 28

GRILLED RIBEYE*

12oz ribeye, smashed yukon potatoes, seasonal vegetables, caramelized onion demi | 41




SIGNATURE DESSERTS

---

MOLTEN LAVA CAKE

served warm with vanilla ice cream | 10

APPLE PIE CHEESECAKE

west valley's famous home town dessert! housemade vanilla bean cheesecake topped with spiced apple pie filling | 10




TRADITIONAL

---

SOUTHWEST OMELET

chorizo, pepper, onion, pepper jack cheese, avocado, potatoes, toast | 16

MEAT OMELET

three egg omelet, bacon, sausage, cheddar cheese, potatoes, toast | 16

TWO EGG BREAKFAST

two eggs, bacon or sausage, potatoes, toast | 14

STEAK AND EGGS

two eggs, 5oz sirloin, potatoes and toast | 18

CORNED BEEF HASH

chopped corned beef, potatoes, egg, toast | 16

AVOCADO EGG SANDWICH

bacon, egg, avocado, cheddar, tomato, chipotle aioli on sourdough | 16

BREAKFAST BURRITO

sausage, egg, cheese, potato, pico de gallo | 10




FROM THE GRILL

---

SAUSAGE PANCAKES

three sausage patties dipped in batter, whipped butter, syrup | 15

BANANAS FOSTER FRENCH TOAST

thick slice texas toast, cinnamon vanilla batter, rum banana glaze | 14

SHORT STACK

two large pancakes, whipped butter, maple syrup | 12




FAVORITES

---

CHORIZO BOWL

peppers, onions, chorizo, cheese, potatoes, egg | 15

SMOTHERED CHICKEN & WAFFLES

two mini waffles, crispy chicken tenders, sausage gravy | 15

BISCUITS & GRAVY

two buttermilk biscuits, sausage gravy | 7

CHILAQUILES

fried tortilla, chorizo, scrambled eggs, potatoes, red sauce | 15

AVOCADO TOAST

two eggs, arugula, tomato, bacon, toasted wheat, potatoes | 15

BELGIAN WAFFLE

four mini waffles, mixed berries, whipped butter, maple syrup | 14




SIDES & DRINKS

---

SIDES

bacon / sausage | 6
1/2 waffle | 6
potatoes | 5
one egg | 2
toast | 3

DRINKS

juice | 3.5
coffee | 3.5
mimosa | 8
bloody mary | 8
verrado mary | 15
*Consuming Raw or Undercooked Meats, Poultry, Eggs or Seafood can Increase Your Risk of Food-Borne Illness